Just about two years ago I was surfing the net during my lunch break at work, and I came across an ad by MSN Spaces highlighting the hottest blogs of late. Fatcyclist.com was the only blog listed that drew me in, and it drew me in indeed.
Fatty, as he is affectionately known to those who follow his blog, is blessed with a clever tongue and witty turn of phrase. His tongue-in-cheek stories and dry humor have never ceased to bring a smile to my face. Except that is for the guest post submitted by Al Mavia, one of his Australian readers, about
saddle sores
…but that's a story for another day.
He blogs about road biking and mountain biking, single tracks in Southern Utah, and, his personal favorite,
epic rides
. He writes satire and sells it to cyclingnews.com under the name of Fat Cyclist Fake News Service.
His blurb, ALWAYS makes me chuckle.
Fat Cyclist.
It's like reality TV, except it's real. And there's no TV.
There was the time he gave
Lance Armstrong unemployment advice
after Lance retired from professional cycling. Or the time he told you how to
talk trash
, or spelled out
universal hand gestures
for all occasions, or the open letters to
the Passenger in the Green SUV Who Screamed as He Went By Yesterday
and
Cannondale
, or when he wrote about
why Team Davitamon-Lotto Wished it Was Dead
, or
How to Size Up the Competition, Part 1
.
Over the past couple of years, he has gained quite a following. People from Australia to Turkey actively comment and participate, the blog has become quite a community of friends.
So a week ago when Fatty told us his wife's cancer has metastasized and she is starting chemo again, the outpouring of support was not surprising. Well wishes from all over the world have come his way.
In fact, one of his
'Ads for Schwag'
partners,
Twin Six
, designed a jersey specifically for fat cyclists all over the world, in honor of Fatty's wife Susan. To quote Fatty:
The Twin Six guys have contacted me, too. They had an idea. "What if we did a pink version of the Fat Cyclist jersey," they asked, "to show support for your wife and raise some money to fight breast cancer?" They went on to explain that they wouldn't make a dime with this — all profit would go to whatever cause(s) I see fit. …

So here's what I'm thinking. $5 from each jersey would go to Susan to buy jewelry supplies, which Susan says she will use to make cool stuff to give to Fat Cyclist readers. The balance will go to the best breast cancer research foundation I can find (I'll get BotchedExperiment to help me figure that out).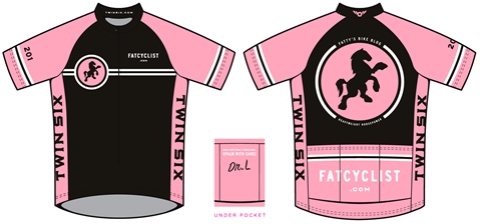 For those of you who are interested, start saving your pennies. When the jersey is up for sale, I'll let you know. In the mean time, you could go to
FatCyclist.com
and click on the poll he's doing so he knows how many jerseys they should plan to make.
-Bitter